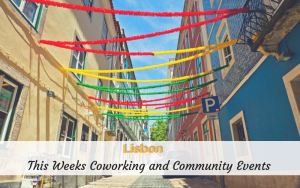 June is the month of Portuguese Saints festivities.
As tradition dictates, grilled sardines, colorful decorations, drinks and people dancing in the street are only some of the things to expect happening in Lisbon in the next weeks.
We all love having fun and partying right?!
But …
Getting some work done, finishing a project or expanding our knowledge (by attending one of these events) are some things that we all have on our priority list.
I don't know about you, but to fully enjoy my first ever June in Lisbon and cope with my FOMO, I will try to get as much work done by Thursday and then join the party…let's see how it goes.
Until then, here is the fully packed agenda of co-working and community digital events happening this week:
***click on the even name to check out the event full details
Monday 4th  of June, 2018

06:30pm Monday Meditation @ImpactHub
07:00pm Yoga&Coffee @BlockCafe
Tuesday 5th  of June 2018
10:00am Start of a 3 part Creative Hot Writing Workshop
06:00pm DemoNightLx16 @Canopy
06:00pm Lisbon Startup Ecosystem: Opportunities and Challenges
07:00pm Lisbon SEO Meetup #2 – PWA, JS and SEO
07:00pm Sense_drink: how to be cool and fashion in a sustainable way?
07:00pm The Beginning of Your Blockchain Journey @BlockCafe
Wednesday 6th of June, 2018
09:00am Yoga Week @Heden Om Room
09:30am Out of office Slo-Working day in Estrela Park (event organized by members of the community)
06:00pm Storytelling Workshop @SecondHome
06:30pm How to Grow a YouTube Channel & SEO AMA with Brian Dean of Backlinko
06:45pm Beat Procrastination & Gain Confidence Workshop @ImpactHub
Thursday 7th  of June, 2018
03:00pm Free Revolut Card Giveaway at Startup Lisboa
05:00pm Happy hour & Happy Host @Idea
07:00pm Coding Bootcamp Alumni Q&A Panel with Le Wagon
07:00pm FoodHubLx & Foodisms Community Kick-Off @ImpactHub
07:00pm Pitch Slam @StartUp Lisboa
07:30pm Rosanna is inviting us to Bicaense bar for weekly drinks and fun along side with other nomads in town
***Join our meetup group – Lisbon Digital Nomads – and stay up to date with the meetups, talks and workshops organized for the community of digital nomads in Lisbon
Friday 8th of June, 2018
12:00pm Coworkingday – Passive Income Kick Off -Affiliate Marketing
Saturday 9th of June, 2018
10:00am Facebook Ads for Beginners – Launch Your First Campaign hosted by Agata
10:00am Visual and build your ideal life event in French
07:45pm Our first nomad dinner of this season with traditional Portuguese food and drinks
 Fun&Leisure
Dinner @ Illegal Chinese restaurant and Karaoke with Mandy https://www.facebook.com/events/845153589023635/
For all jazz lovers in town OutJazz Festival is happening every Sunday in a park from Lisbon
Nomad Tips&Trick
OPEN FAQ ABOUT VISA FOR NON-EU RESIDENTS Resources
I tell you, lots of things happening in Lisbon.
Explore the the full agenda of this week  and join the events that resonates with the things you are interested in.
Cheers,
Olivia, a nomad who fell in love with Lisbon