After moving to Lisbon we found ourselves an apartment, put in my papers at SEF and got ready to test drive life in the city.
The Lisbon Digital Nomads Mingle with a Beer group had been inactive for several months at this point. But the group had a little over 400 members.
I had reached out to Ioannis, the previous organiser to ask for suggestions about a venue or possible locations. He said it's just a casual thing so we could do it at any bar. I also asked Rosanna who was marked as a co-organiser and had done a few meetups in the past, what her thoughts were. She was really excited at the scene firing up again although she was far away in South East Asia at the time. As none of the co-organisers were in town, I decided I had to do this on my own. But I was really lucky that both of them gave me some very useful suggestions on how to do the meetup including possible locations, what to do after, etc.
Now that I was a little more settled, I decided that it was time to try out this whole 'doing a meetup' thing. I figured that Casa Independente would be a good venue for us since it's pretty central, spacious, and the drinks are affordable. Thus, the first meetup was scheduled on Wednesday, 11th January 2017.
I honestly didn't know what to expect. I figured that if we could get 7-10 people it'd be a pretty great evening. I intended to do this regularly so that we all had a place to meet so in my mind I had thought that I could do this once a month. It would be a way for me to meet new people and give back to the community. I'd also potentially be solving an enormous problem that I had faced on the road. Meeting new people while I was traveling as a digital nomad.
Forty eight people RSVPed to the event! I had never done a meetup on the meetup.com platform before so I had no idea how many people were going to show up.
On the day of the meetup we went to Casa Independente about 30 minutes early. We figured there would be around 10 people so we took this small room next to the bar.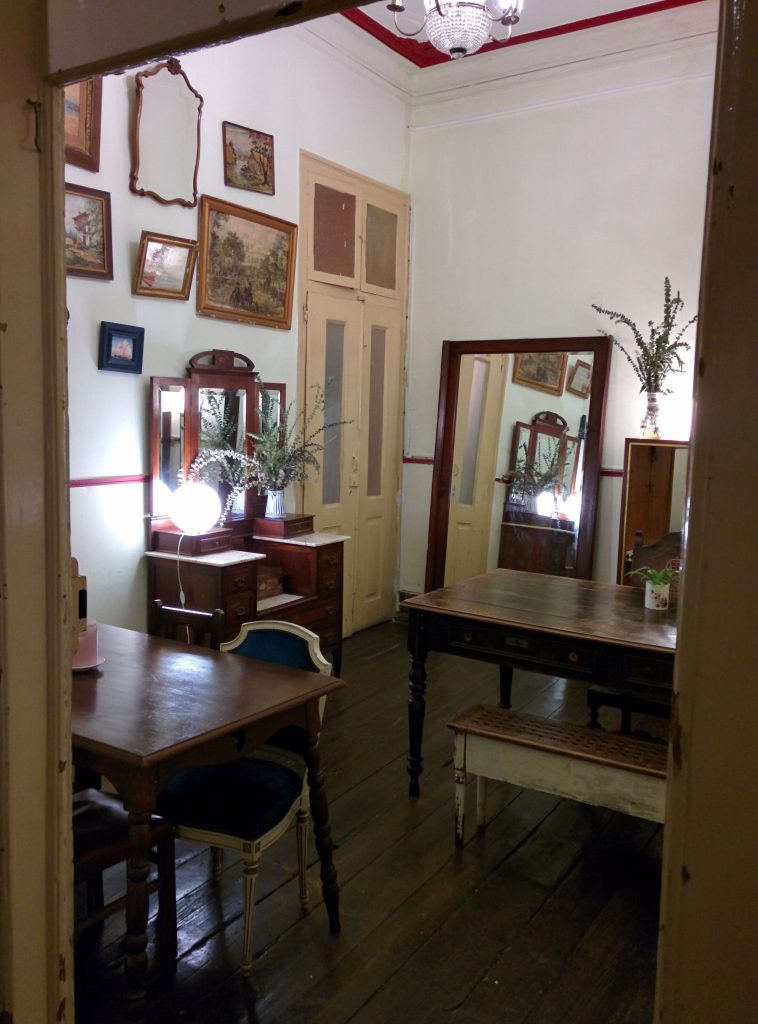 At around 7:15PM the first few people started arriving. We got some drinks and started talking. But soon, the event kind of exploded! The room got super busy and people started hanging out in the corridor, next to the bar, and I had this idea in my head that I wanted to meet everyone but there were SO MANY PEOPLE EVERYWHERE!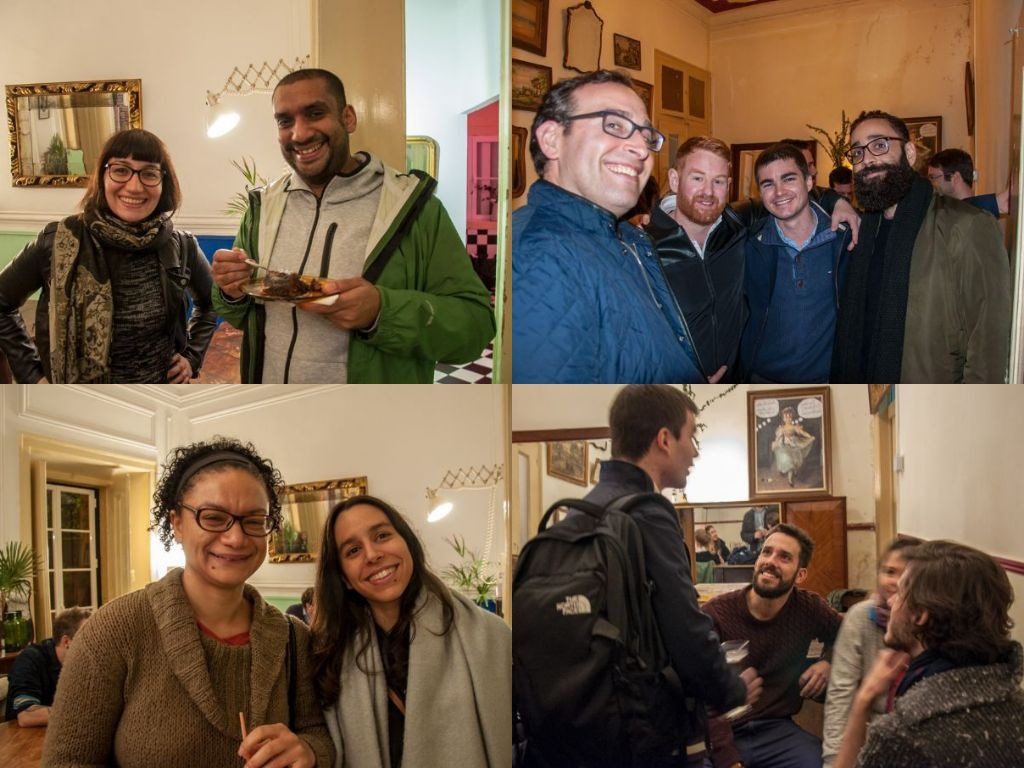 I never got a real count but I'd wager that at least 40 people showed up. The party was on, and it got super busy!
Around 11PM several people had already left so I rounded up the remaining people and we took a group photo.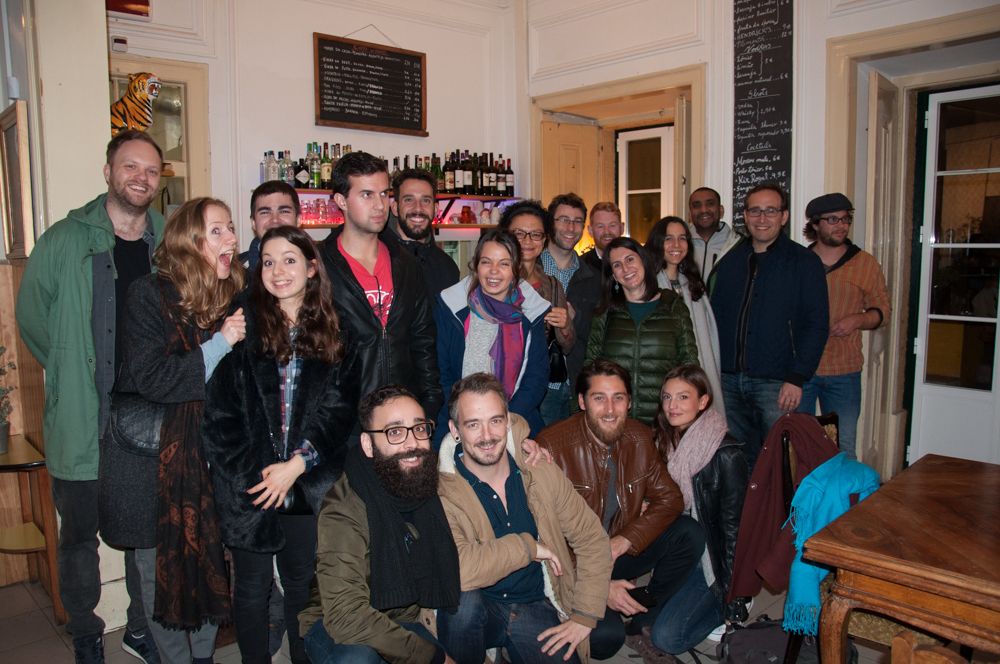 We wrapped up the evening by going for Clandestine Chinese. Lisbon has a history of illegal Chinese restaurants. These are restaurants in residential buildings that don't have licenses to operate. So about 10 of us went to one of the illegal Chinese restaurants and had a meal together.
In the beginning, when our meetups were small we used to do this quite a bit. At the end of the evening, a smaller group of people would go to a restaurant nearby and eat something together. It was a great way to follow up on the evening and make deeper connections. This has of course become much tougher now as our meetups are regularly attended by 80+ people.
Many of the people I met on this first night, over the course of the next few months, ended up becoming some of my closest friends in Lisbon. I had created this event to solve a problem, give back to the community, and maybe make some new friends. With just the first event, I met so many amazing people and made such great connections that I felt like I had reaped a 10x reward, right there.
I knew that I had to keep doing this.
After being nomadic for 5 years Ash chose Lisbon as his base. Now, as a grumpy old man he organises nomad meetups and tells young nomads to get off his porch!